Well, I'm writing this blog on at the beginning of July 2012, and here in the UK we're still waiting for our summer to start.  Unfortunately some places have even been experiencing flooding, so it's not surprising that people are booking holidays to sunnier climates (I wish!).  Joking apart, people regularly contact me to ask if they really need to take their CPAP away with them.  The answer is short and sweet….. "YES."  Apart from the health issues surrounding untreated Sleep Apnoea, we don't want to be spoiling our holidays or even business trips with the resulting tiredness, leading to exhaustion, associated with no treatment.
The last family holiday we had in Spain was not an experience I want to go through again – we had all our money, mobile 'phones, theme park tickets and other valuables stolen!  We were left with our passports, clothes and, thankfully, my faithful CPAP Machine.  Interestingly, if this had happened to us in the many years of my undiagnosed and untreated Sleep Apnoea I would have handled this bad experience dreadfully (it didn't take much to get to me in those days).  I probably would have suffered from anxiety, been very tearful and begging to come home.  However, I am sure that thanks to my successful CPAP treatment I was able to handle the emotions of the experience much better, and we spent our remaining week near to the hotel relaxing in the sun, and being very thankful that for the first time ever we were all-inclusive so we had enough food and drinks for the rest of our holiday!
If you find the following helpful, it would be a good idea to add them now to your holiday list so you don't forget anything:-
SLEEP APNOEA MEDICAL ALERT CARD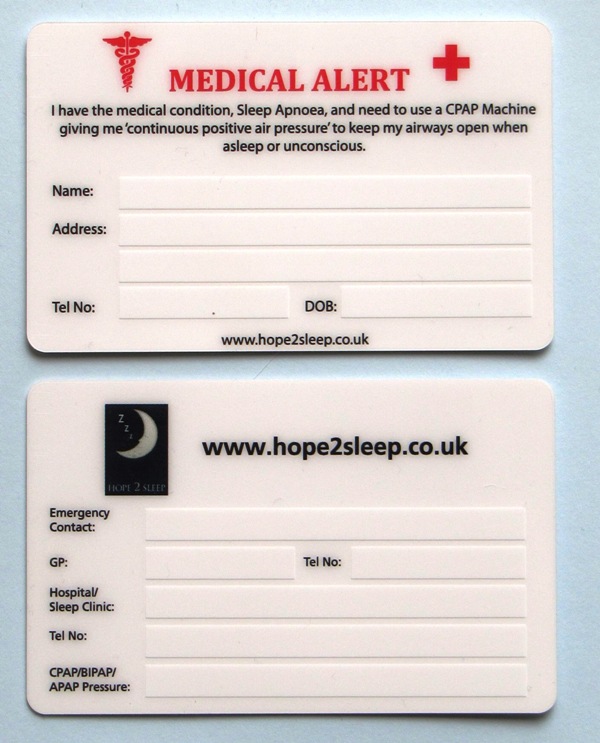 These are very important (and not just for trips away) to carry one with us at all times in our wallet or purse, just in case of an emergency.  They alert medics to the fact that when asleep or unconscious our airways collapse, and this is crucial information necessary if we need to undergo anaesthesia for surgery.  Some people swap purses or wallets for holidays, so don't forget this too.
We've had these designed ourselves so there's even space to let medics know your prescribed CPAP/APAP pressures, along with your sleep clinic's details and emergency contact.  One lady had her purse returned to her when she lost it, thanks to the information on the card, so they have other uses too!
If you've not got one, you can purchase them on the main website HERE
CPAP MACHINE + HOSE

Make sure you've changed your filters, if necessary, before you go, then you won't have to mess around whilst you're there.  That crucial part of our equipment (the Hose) is also so important as without a working hose our machines and masks are useless! I always take a spare CPAP Hose Tube with me, just in case, and I've personally helped several people who have been stuck on holiday with a broken hose, or they've even forgotten to pack it.  I might add, that I get into trouble from my husband for over-packing 😀  but no way am I taking chances of anything to disrupt my therapy.  I would also suggest taking some Duct Tape to fix any holes or tears.
CPAP LUGGAGE BAG
Hopefully, you had a CPAP Carry Bag provided with your machine.  However, a lot of people like to carry their equipment in larger bags to keep everything together.  Just make sure that it's well padded to protect your machine.  I saw a super idea in a local shop, and found them on Amazon.   Unlike a lot of cases with wheels, they can be carried on the back if people prefer.   I'll definitely be investing in one myself for the next trip so that I can put all my travel items (CPAP in the manufacturers bag, accessories, laptop + handbag) in one bag, with the added benefit of wheels so it's not heavy.

This superb Respironics CPAP Travel Bag is especially useful for people who (like me) take their laptop/notebook everywhere with them, but obviously the laptop part of the bag could be used for anything people like to keep to hand.  Business people who wish to carry their laptop and CPAP all in one bag will like this as the bag can then be separated so that once the CPAP machine is safe in the overnight accommodation, the laptop can be carried in its own bag.   Whilst it has been designed for Respironics' own machines, most other machines will no doubt be suitable.
Additionally, it has a strap on the back which will easily slide over the handles of a luggage trolley so it will only need carrying when the larger wheeled suitcase has been stored elsewhere or already on the plane.
CPAP MASKS
My biggest fear in the days when I only used to have one mask was, what if it breaks?  I clearly remember the night when I got into bed, only to find that one of my headgear clips was missing – shock horror!  No way, even as tired as I was, did I want to spend a night without treatment.  I remembered that I'd hung out the headgear on the washing line so it was probably outside.  To cut a long story short, the whole family ended up coming outside with me (bless 'em) armed with torches to search for the missing clip, which to my relief we eventually did find 🙂
Hopefully, you have a spare mask (even an old one is better than nothing), but if you don't I would urge you to beg your clinic for one or save up to purchase one yourself.   It is always wise to have one at home anyway for emergencies, and I'm a big believer in having different types of masks if possible to give certain parts of your face a rest, but that's another blog for another day……
We do sell masks on the website, and if you want any advice please feel free to contact me.  All the masks on the Hope2Sleep Website have been personally trialled by me, in order to help you.
MASK LINERS

Well, I certainly don't want to spend my holiday looking like I'm wearing the mask during the day, so even for people who don't normally need mask liners it's worth packing some.  Different temperatures and humidity when away from home can cause our masks to react differently, and as well as facial marks, the mask liners help prevent mask leaks which not only mean our therapy isn't as successful, but can also result in interrupted sleep.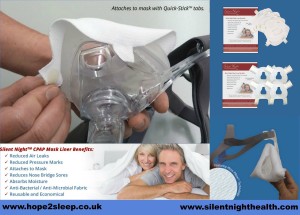 CPAP HUMIDIFIER
Some people prefer to leave their humidifiers at home to save space and lighten the load, but I personally prefer to always use humidification with my CPAP.  Remember to purchase some bottled water as soon as you get there to use in the humidifier, or if you have a kettle in your room, boiling up tap water and letting it cool is another option.  (A lot of people use these methods when at home too, as the recommended distilled water isn't easily accessible in the UK).
CPAP LUGGAGE TAG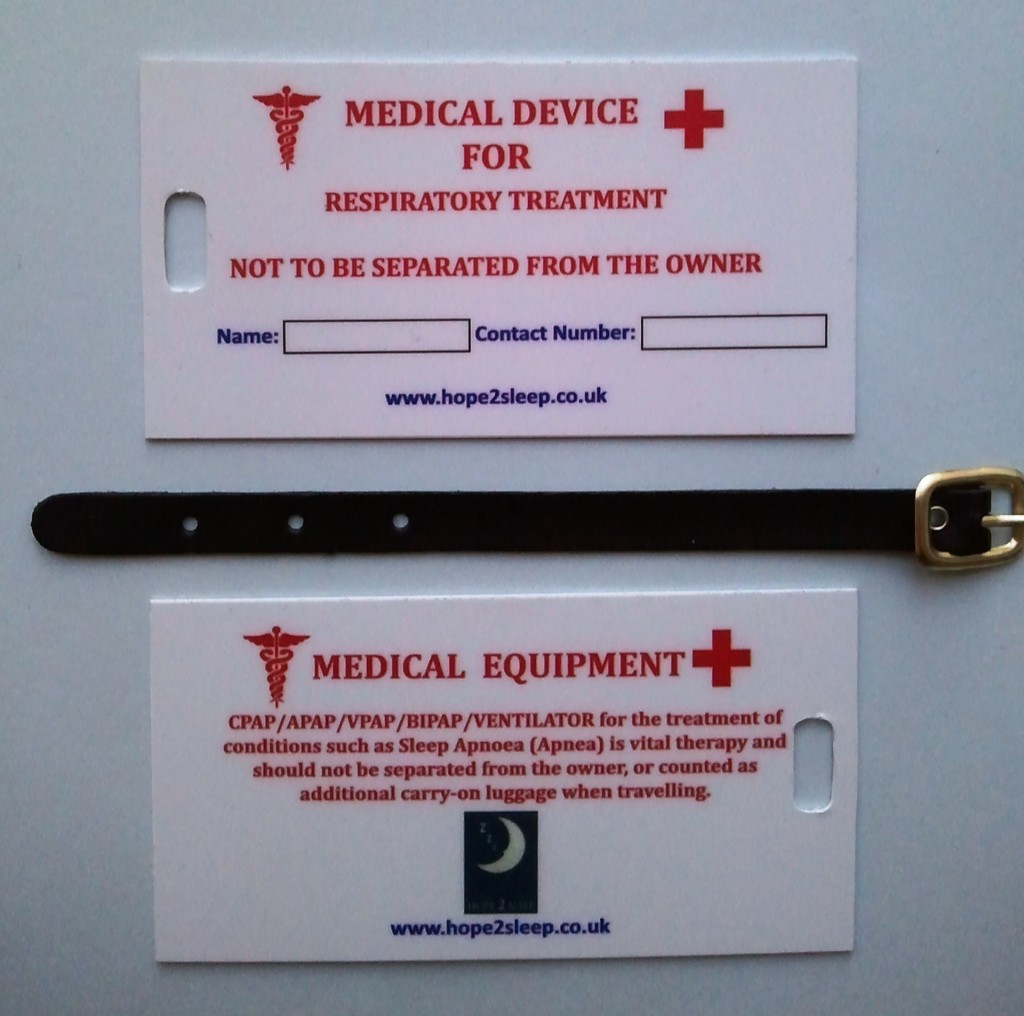 These Luggage Tags have been designed by us to incorporate your  surname and a contact number in case you accidentally get separated from your CPAP.  They are also useful for stays in hospital.  It is advisable to put your mobile number on it rather than your landline, so that anyone finding it can ring you immediately.
The luggage tags are also highly recommended for air travel, and my own experience and that of other people who use them, are that they help make check-in at airports less hassle, as airport officials can clearly identify it is a necessary medical device.  The clever wording of "should not be counted as carry-on luggage" is what we believe to be the case 😉  However, here in the UK there is no firm rule in place to confirm this, so you are always advised to ring the airline to check this out before flying.  (The easiest way would be to get larger hand luggage like I've already mentioned, so that you can pack your CPAP in one bag with your other items you wish to take on-board).
You must always contact the airline BEFORE you fly for permission to use your CPAP during the flight if needed.
These CPAP + Ventilator Luggage Tags can be purchased HERE
CPAP CLEANING WIPES + SPRAYS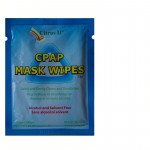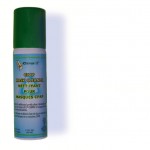 Bearing in mind it is VERY IMPORTANT to clean our masks every day, even when away!  Apart from the health aspects, cleaning the mask cushions of all our facial oils gives us the best chance of getting a good mask seal.  Thankfully, the manufacturer of the CPAP Wipes and Sprays has come up with travel versions for us.  Whilst they do work out more expensive than the larger packs they are very convenient.
Unlike the larger tubs of wipes, the travel versions all come in individually wrapped packaging, so there's no risk of the wipes drying out.
MONEY SAVING TIP (don't tell the manufacturer I told you 😀 ) – if you're going for a 14 night holiday, just buy one pack of the travel wipes.  There are officially 12 in a box, but we place an extra 2 in there as most people take 14 days holidays.
EXTENSION LEAD
This is an 'absolute must' for travel due to the fact that you never know until you get there whether there is a socket near the bed (I got caught out myself in a hotel in Liverpool last year, when I forgot to take mine).  Up to now I've always taken a 4-way extension lead with me, but they're a bit big for travel, so next time I'll take 2-way (one spare handy socket always comes in useful)  like the one pictured below from Amazon.  I picked that particular one to link to, as it's got a neon light so you can quickly check that it's plugged in, and even more importantly the fact that it's 5 metres, which should give ample length to get the CPAP near the bed – there's always a chance that a smaller extension could still be too far away to the nearest socket!

CPAP HOSE LIFT
Now the CPAP Hose Lift is one item I never forget, and even have a spare one pre-packed in my suitcase.  Again on a holiday to Spain I had bother (think I'll give Spain a miss in future 😀 ).  As I said, I always use my humidifier, but with humidification it's even more important to get the hose elevated to stop the 'rainout.'  At this particular hotel there wasn't even a headboard, even though it was a fairly nice room!  I had to use my dressing gown belt to fix to the hose and elevate it onto the wardrobe door.  Now bear in mind the fact that it took me quite a while to get it rigged up, you can imagine my annoyance when everyday the maids undid it when they cleaned the room!  I did leave them a note, but I guess they didn't speak English 😀
Thankfully, this is one item that takes up hardly any room to pack and is as light as a feather, thanks to the inventor who has thought of everything, as it even has a handy travel bag and totally folds down in seconds.  Even if I didn't have a humidifier I would still use my Hose Lift every night, as it's a gem at keeping the tubing completely away from my face and stops the mask pulling, thereby causing leaks.  It even rotates from side to side as I turn over in my sleep!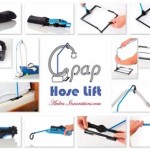 CPAP MACHINE BEDSIDE TABLE HOLDER

Arden Innovations, the Hose Lift Inventor, have now come up with another fabulous, and often much-needed travel accessory, with the portable CPAP Machine Holder.  There's nothing worse than finding out there's either no bedside table, not enough room for a the machine on a small one or the wrong height when staying away from home.   These are often times when people have to resort to placing their CPAP on the floor, which is not a good idea as it's where most dust circulates, people can stand on their machines by accident when visiting the bathroom during the night, and also the fact that if the floor is carpeted this can be a fire risk as we are told not to place our machines on any flammable surface (according to the manufacturer's manual).
CPAP HOSE CLIP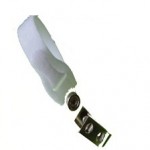 These Hose Clips are really useful for people without the Hose Lift, and are especially helpful to people in caravans where space prohibits the use of the Hose Lift (see this latest Caravan Discussion on the Sleep Apnoea Forum).
They can be clipped onto nightwear garments too after securing around the hose, helping to keep the CPAP tubing out of the way.
The Hose Clips can be bought on the website HERE
CPAP HOSE COVER
It goes without saying not to forget to take your Hose Cover and especially if your humidifier is going with you, as different room temperatures and climates can cause 'rainout' (water entering the mask) and isn't a nice 'wake up' call in the middle of the night.  The Hose Cover also offers protection from damage to the tube.  Also, bearing in mind that many people find they reduce the noise from their CPAP machines too, the last thing you want is having broken sleep whilst away.  Fortunately they are very light and compact for travel and come in different colours and patterns – there are even ones suitable for  a safari holiday!
These Hose Covers can be bought on the website HERE
OTHER ACCESSORIES WE MIGHT NEED REMEMBER TO PACK

Liquicell Pressure-Relief Gel Pads

for embarrassing, and often painful, pressure sores on the bridge of the nose caused by the mask.
CPAP Battery Pack etc if you use one with your machine.
CPAP Moisture Therapy Cream to help with dry and/or sore skin caused by the masks, along with painful nostrils from nasal cushions.

CPAP Mask Strap Covers

to protect from marks on the face/cheeks caused by the headgear straps.
Air Freshener, in case the room has a smell you'd rather not inhale all night through your machine.
CPAP Bacterial Filters for extra protection to our lungs, and especially for allergy and asthma sufferers.
For extra help with travelling there have been several discussions on our Sleep Apnoea Forum.  An example of a few of these are (click on links of interest to you):-
Phew, that was a long Blog, but there's been so much to cover, and no doubt I've missed something.  I will update the Blog from time to time, and do let me know any other good ideas you have in the comment box below for travelling, which will help other people.  If you want to be alerted by email when I write new Blogs then there's a Subscribe to Blog box on the right-hand side.  Alternatively, you can have emails delivered to you for the monthly emails I send out in the Sign up for Newsletters box.  Meanwhile, I wish you a happy safe trip.
Bon Voyage!
Kath