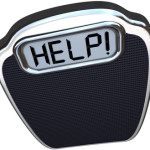 Update 23rd February 2014 – In light of another new study, resulting in many articles being circulated with titles such as 'CPAP Cures Sleep Apnoea' +'Lose Weight Lose Sleep Apnoea' etc – here's a link to one of them http://www.huffingtonpost.com/2014/02/18/lose-weight-sleep-apnea Also, here's an infographic on the results of a recent quick questionnaire I carried out about whether CPAP helped people lose weight and whether people got cured of Sleep Apnoea after weight loss.  Only 1% of people did get cured! (Click on the image to see it more clearly).
Now back to the original blog post………
An article I came across today swayed me into talking about weight issues for my 2nd blog post.  The title of the article was "Getting sleep helped me shift 15 stone in a year."  You can read the full article, but basically it's about a lady who got diagnosed for sleep apnoea and once on CPAP she went from being 28 stone and is now a size 12.  There was a similar article just a week or so back about another lady – again who lost 15 stone, but this one had gastric surgery as well as CPAP –Full Article Here.   Neither article says whether these ladies had another sleep study to determine if their sleep apnoea has disappeared, and most people who do are disappointed to find it hasn't.  Why is this then?  It is my opinion that in most cases people have undiagnosed sleep apnoea from a young age and they gain weight due to their sleep-deprived bodies needing extra energy, which they naturally seek in high calorie food and drink, as well as coffee of course.  I have lost count of the amount of customers who tell me they snored when they were slim.  Of course, sleep apnoea symptoms get worse with the more weight that is piled on, but it really is a vicious circle.  I can trace my sleep apnoea back to when I was a teenager (if not earlier, when I remember the times as a young girl I would wake up feeling I was suffocating).  I'm certain that the only reason I didn't get obese is because I continuously fought the urge to eat all these wrong foods as I knew how easy it was for me to gain pounds (unfortunately not the kind of pounds I could spend – the ones that cause us to have to keep buying new bigger clothes 😀 .  Incidentally, during my first year of CPAP, I joined a slimming class (Slimming World) and 2 stone literally fell off me, thus for the first time since being a teenager I was able to get back into size 12 clothes again 🙂  I have spoken to many people who expect that once they are on CPAP the weight will just fall off.  Whilst in rare cases this can be true and certainly a fair amount often does, most people experience weight loss when they use their CPAP and make a conscious effort to lose weight – only now they're getting good safe sleep they find the weight shifts easier!
Another big factor for not being able to shed weight easily when having undiagnosed sleep apnoea is the fact that during REM sleep our bodies burn up many more calories than at any other sleep stage, and bearing in mind that sleep apnoea sufferers are constantly being kicked out of REM sleep when they experience apnoea events, these calories don't get burnt up!  An excellent article of why sleep deprivation causes weight gain is here…. 'How Does Sleep Deprivation Cause Weight Gain?'  In actual fact Michael Breus, PhD (also known as 'The Sleep Doctor') has written a whole book on this which you can get on Amazon:-
Now I'm not implying that people can't bring on sleep apnoea themselves through piling on weight for whatever reason, and perhaps it's these people who can get cured of sleep apnoea when it's caused through weight issues alone.  However, most sleep apnoea is caused by craniofacial issues (and made worse through weight gain), such as receding jaw, large tongue base, large soft palate, enlarged uvula, large tonsils etc., and then the weight creeps on due to sleep deprivation from the untreated sleep apnoea.
In another article, Lisa Shives, MD and founder of the Northshore Sleep Medicine centre in Illinois states "The classic paediatric sleep apnea patient is a skinny 6-year-old with chronic congestion and dark circles under his eyes." so perhaps as people are becoming more aware of sleep apnoea and people get diagnosed earlier in life, as well as living healthier lives with treated sleep apnoea, then a lot of obesity problems will become rarer too.
What do you think came first……the Chicken or the Egg?