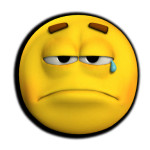 This is a vast subject to take on in this blog, but I do feel it's important to talk about it, in the 'hope' it will bring relief to people reading this, as there are so many people struggling with depression and anxiety, unaware that they have Sleep Apnoea.  Depression is never an easy burden to carry – with many people actually feeling guilty that they suffer from it.  However, knowing there may be a good reason can help, and I have spoken to many Hope2Sleep customers who are actually relieved when they discover that it was probably their untreated Sleep Apnoea that was the main cause, or it certainly contributed to making matters worse.  All people, whether they have a sleep condition or not, find it harder to cope with any problems if they are sleep deprived for whatever reason.
It's quite common knowledge these days that depression can cause Insomnia, but in this post we're addressing the fact that Sleep Apnoea can cause depression (note the fact that depression does not cause obstructive sleep apnoea).
The biggest cause of depression/anxiety for someone with undiagnosed Sleep Apnoea is due to the sleep deprivation they are suffering, even though they don't realise it.  Many people are shocked when they are diagnosed, as they hadn't even realised they were particularly tired – in other words they'd got used to living in this state.  Elderly people report that when they're on treatment for Sleep Apnoea they feel 10-20 years younger (in fact people of all ages state this, but it's the elderly that tend to put down the weariness of their undiagnosed Sleep Apnoea down to age)!
Just last month the internet was rife with stories of a Study linking between Depression and Sleep Apnoea.  Here's just one of them STUDY LINKS SLEEP APNEA + DEPRESSION.
The NATIONAL SLEEP FOUNDATION also has an interesting article covering Sleep and Depression.
THE ONSET OF DEPRESSION/ANXIETY
The story often begins with people feeling depressed and/or anxious for no particular reason, and when it gets unbearable they visit their GP for help.  During the consultation they're asked whether they have any particular problems, but often these problems don't seem big enough to warrant feeling this way.  Sometimes the people are sent for counselling and often sent home with anti-depressants, tranquillisers or sleeping pills.  Whilst the anti-depressants can help (I speak from experience here) most of these types of medications actually make the undiagnosed Sleep Apnoea worse.  I must also add at this point that I have a very good GP, and he always asked me how my sleep was, and I assured him I slept 'like a log' (obviously due to my severe sleep deprivation, and I wasn't one of those OSA sufferers who were woken up with the apnoeas).  However, here in the UK, it's only recently that medics are realising how common Sleep Apnoea is and he wouldn't have known about this back then.
PLEASE PLEASE, IF YOU ARE READING THIS AND ARE CURRENTLY TAKING THIS KIND OF MEDICATION, DO NOT STOP TAKING IT WITHOUT THE CO-OPERATION OF YOUR GP!
MY OWN BRIEF HISTORY
During my decades of struggling on undiagnosed, it didn't take much of life's pressures before I would suffer from anxiety, and at extreme times, panic attacks.  Sometimes this would take hold of me for so long, that it also developed into depression.  A few times I reached breaking point where I was confined to the sofa, literally unable to move for weeks or even months at a time.  No amount of tests I had showed any signs of other illnesses.  Nervous exhaustion was the only explanation – and no flipping wonder, when I was (unbeknown to me) having the equivalent of 2 hours sleep per night!
THEN ALONG COMES RELIEF…
Most people – me included – discover that once they're on CPAP or other treatment for Sleep Apnoea they become stronger, and more able to deal with pressure and problems that come their way.
WHY PANIC ATTACKS?
My own theory on this is that during our apnoea events, our body is sensitised to be in the fight-flight state as our heart/brain fight to get us breathing again.  It makes perfect sense that these fight-flight (panic) events will spill over into our waking hours, as our bodies grow accustomed to them.  I must stress here that I am not suggesting all panic attacks are linked with Sleep Apnoea, but it's interesting to note that a lot of sufferers, once diagnosed and treated, find the panic attacks diminish.
HOW DO I KNOW THIS?
….because I speak to 100's of people who, when newly diagnosed with Sleep Apnoea, often need support at the beginning of their CPAP therapy, and help from some of the CPAP Comfort Products and Masks we sell.  When we get talking I can honestly say that at least 75% of these people tell me that they have had some form of treatment for depression, anxiety, panic attacks and stress.
CONCLUSION
Bearing in mind that depression and anxiety can be caused, or made worse, by undiagnosed Sleep Apnoea, including inadequately treated Sleep Apnoea, I hope people that weren't aware of this will be helped by reading this post.  The good news is that the medical professional are realising this too, so hopefully great strides will be taken in rescuing people from going down the dark and distressing path of suffering in this way.  I believe that if Sleep Apnoea was investigated at the first signs of depression/anxiety, then a vast number of people could be saved from these debilitating conditions.  What do you think?